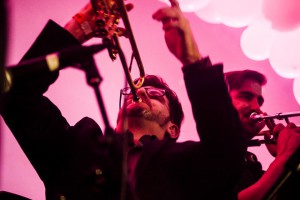 After a successful Spring providing massive horns for Lady Antebellum at the Country Music Awards; performing w/ Bonobo at Coachella and Red Rocks; assembling and directing the Music of Patrick Adams concert for the RBMA Festival NYC and rocking the Broad Stage w/ Ethio Cali (along w/ Mexico68 and Jungle Fire), Todd is ready for a massive summer.
Save these dates and be ready for a good time:
5/25 Hodgepodge #7 feat. Houseshoes, Jimetta Rose, DJ SeanO, Kahlil Cummings, Wes Singerman, Sonido Papichampu, Tracy Wannomae and a very special killer guest!
General Lee's 475 Gin Ling Way, Los Angeles, CA 90012 FREE 9pm – ?
5/29 Ethio Cali live at LACMA 5905 Wilshire Blvd, Los Angeles, CA 90036 FREE 12:30pm – 2:30pm
6/3 Members of the Angel City All-Star Brass Band performing w/ Lady Antebellum at theHollywood Bowl 2301 Highland Avenue, Los Angeles, CA 7pm
6/9 Todd Simon DJ set at Friday Funk feat. Gener8r
Lucky Strike 6801 Hollywood Blvd, Ste 143, Los Angeles, California 90028 9pm…
6/18 Todd joins the MAST /\\\ Beat Sessions w/ Aaron Steele on drums
ETA 5630 N Figueroa St, Los Angeles, California 90042 9pm – 12am
6/21 Ethio Cali live at Arts Brookfield/City Beats Wells Fargo Center
Paid parking available in Wells Fargo Center 333 S. Grand Avenue, Los Angeles, CA 90071
w/ DJ Anthony Valadez 12pm – ?
7/4 HUGE 4th of JULY celebration feat. the Angel City All-Star Brass Band to be announced…
7/22 Todd will be performing w/ Meklit at Grand Performances 300 & 350 S. Grand Ave 7pm FREE
7/29 Ethio Cali at BLACKLISTED Festival along side Talib Kweli, Beats Antique & Jungle Fire
Los Angeles Historic Park 1245 N Spring St, Los Angeles, CA 90012, USA.
8/6 Todd arranges/directs an LA adaptation of Peter and the Wolf at Grand Performances 300 & 350 S. Grand Ave 3pm & 4:30pm FREE