Thank you for visiting my site.
I've been blessed with a musically-rich life! The past few years have been unreal: working with the likes of Kelis, Blur, Quantic, my Ethiopian-Jazz ensemble Ethio Cali, and so much more.
This month I'm celebrating two musician friends who are very dear to me. The first is the young arranger/woodwind master, Sly 5th Ave. I'm fortunate to co-produce an exciting tribute to Dr. Dre, assembling a 30-piece orchestra for Sly.
LA has been proud of a recent release from our brother, Dexter Story, called Wondem on Soundway Records. We have an exciting intimate performance of music from this incredible record.
Here are some special events coming up:
Saturday, Nov. 21, 7:30pm-11pm
CALIFORNIA LOVE- A 30-Piece Orchestral Tribute
Celebrating the music DR. DRE @EbellTheatre
Wilshire Ebell Theatre 4401 W 8th St, Los Angeles, CA 90005
#CalifoniaLoveLA #CaliLove
Tickets: californialove.brownpapertickets.com
Link to Facebook: https://www.facebook.com/events/1217518684931743/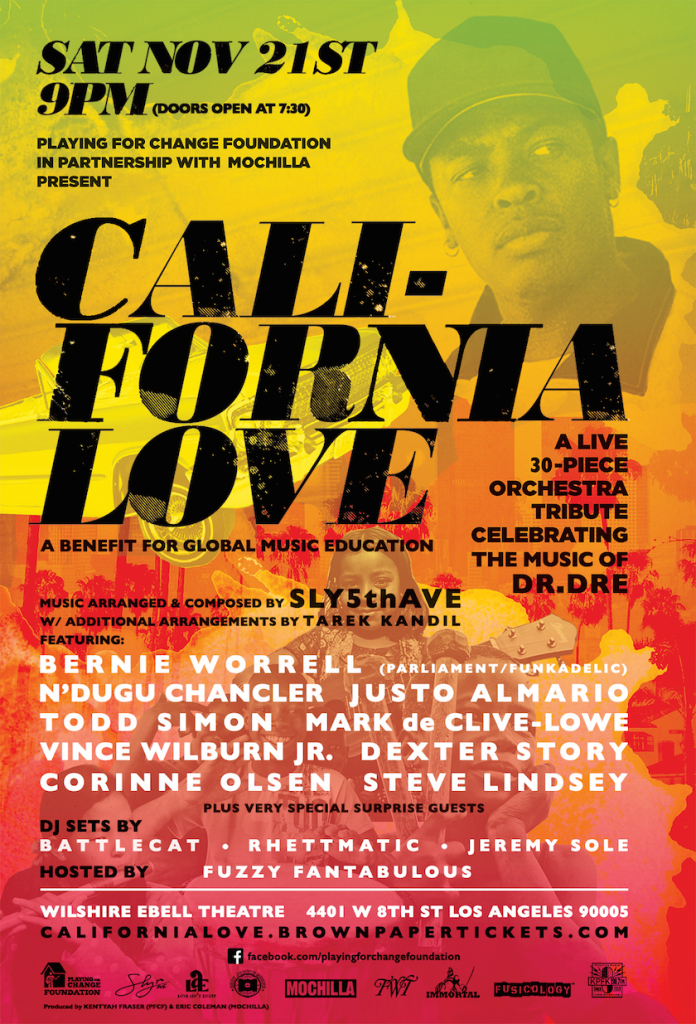 Tuesday, Nov. 24, 10pm
Radio Afrique returns with a special live performance by Dexter Story & Wondem. Presenting new music from the recent Soundway Records release.
Happening upstairs at General Lee's in Chinatown.
Yene Konjo.
Percussion: Carlos Niño
Drums: Te'Amir Sweeney
Bass: Patrick Bailey
Guitar: Michael McTaggart
Keys: Mark de Clive-Lowe
Tenor Saxophone: Randal Fisher
Trumpet: Todd Simon
Keys / Guitar: Dexter Story
Vocals: Dustin Warren (Godfrey at Large)
_______________________
TUESDAY, November 24
DJ's: RANI D & SON ZOO
FREE / 10pm-2am
General Lee's
475 Gin Ling Way
Los Angeles, CA 90012
www.wondem.bandcamp.com
www.rafrique.com
_______________________
Radio Afrique hosts sublime gatherings celebrating the diversity and richness of music found in the various regions of Africa. desert blues, angola soul, ethio jazz, and nigerian disco are some of the genres amplified on these special nights.
dial in.
https://www.facebook.com/events/179959985679314/